Artist Backpack
Posted 732 days ago
Working
This code is part of the Build It Play It: Mansion of Wonder promotion.
Redeem this code to receive the free Back Accessory: Artist Backpack.
To redeem this code you must go into the game Mansion of Wonder. Talk to the fox at the Swag Booth and redeem the code "FXArtist".
Roblox Promo Code:
Reward: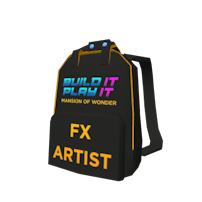 Description
What does this artist use for their special effects? Sparkles? Fire? Magical smoke? You decide! This item can be earned by creating special effects for the Build It Play It Challenge: Mansion of Wonder.