Last Updated: December 18, 2022
How to Get the Super Golf Badge for RB Battles Season 3
This is easy, but will take a little bit of time.
December 12th, 2022
In order to win the highly coveted Winner's Wings 2.0 you'll need to complete all 12 challenges and get the corresponding badges.
One of the badges for the RB Battles Season 3 event can be earned in Super Golf. Read this article to learn how!
Game Link: Super Golf!
How to Get the RB Battles Badge in Super Golf!
In order to get this badge, all you have to do is complete all 18 holes the new Cyber map. But there's more: You need to complete it in EITHER under 88 strokes or under 11 minutes.
Luckily this is not too difficult. Depending on your golf abilities, it's likely that the easier option will be to complete it in under 11 minutes. This means that you'll need to average around 37 seconds per hole. The key is aim calmly but don't wait too long between each shot.
How to Play the Cyber Map in Super Golf!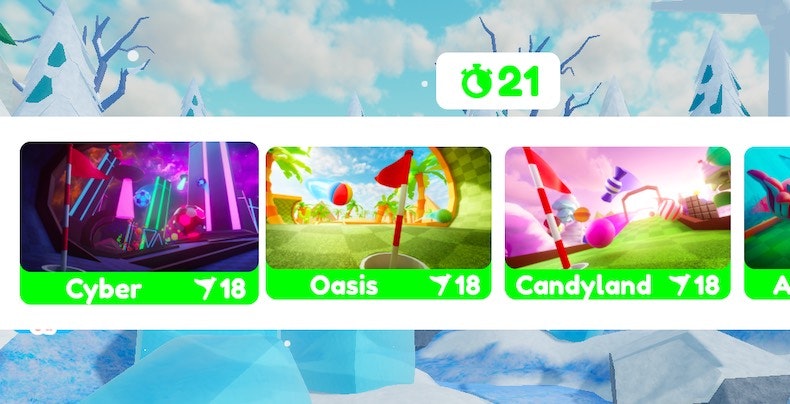 Some of you may not know how to even choose the map you're playing. It can be a little bit confusing.
Follow These Steps:
When you join a server, you will just join in the middle of whatever game is being played. You can either play through with them or wait for it to be over--It won't count toward getting this badge.
When the current game is done, voting will be open for the next map.
If the Cyber map is there, vote for it. If it's not, you'll have to either play or wait through whatever map is chosen until you have a new chance to vote.
Most likey if the Cyber map is an option, it will be chosen by most players.
Once you make it into the Cyber map, be sure to play all the way through all 18 holes.
When you complete all 18 holes of the Cyber map, either in under 88 strokes or under 11 minutes, you'll immediately receive the RB Battles Season 3 Challenge badge.
Once you complete this challenge, be sure to check that you've completed all of the others on our RB Battles Info Page.