Last Updated: March 11, 2023
How to Get the Penguin Shoulder Accessory on Roblox
This item is FREE in Dave & Buster's World
February 12th, 2023
Dave & Buster's World is offering a super cute, FREE avatar item: the Penguin Shoulder Accessory. It's also easy to get! Read this article to learn exactly how to quickly and easily get this sweet item.
Game Link: Dave & Buster's World
How to Get the Penguin Shoulder Accessory in Dave & Buster's World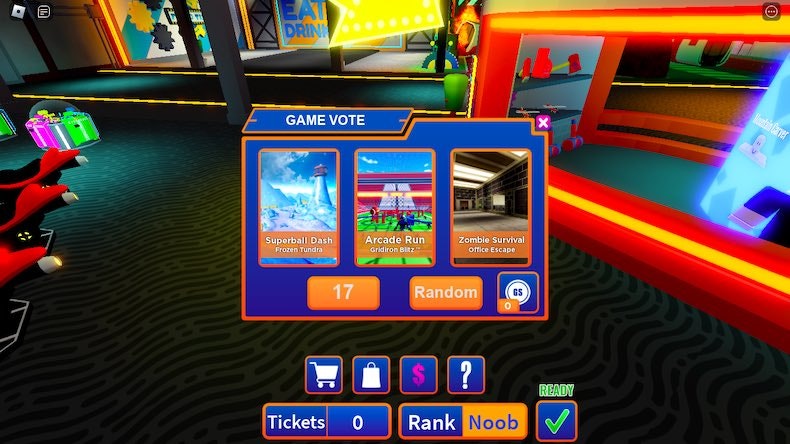 In order to earn the Penguin Shoulder Accessory you'll need to complete all four of the Superball Dash minigames. These can be completed in any order, as long as you complete all four. Here's a list:
Sunset Beach
Mountains Edge
Crystal Cave
Frozen Tundra
Follow these steps:
First, we recommend creating your own server for this game. It's free to do and that way you can choose whatever level you want without having to take a vote.
If you haven't played the game before, start by entering the Arcade and following the arrows to one of the arcade cabinet.
Next you'll be able to click the button at the bottom of the screen to switch from Not Ready to Ready.
At this point a list of minigame options will appear. You will only want to complete the Superball Dash ones.
If the Superball Dash game shown is one you've already completed, simply click the Ready button back to Not Ready, then back to Ready again. This will create a new list of options.
Continue the steps above until you complete all four of the Superball Dash levels.
Once you've completed all four levels you'll immediately receive the Penguin Shoulder Accessory badge and find the Penguin Shoulder Accessory in your avatar inventory.
Name
Penguin Shoulder Accessory
Description
Baby Penguin Shoulder Pet