Robo-Selfie Hat
February Select Merchants Gift Card -
Posted 132 days ago
Expired
This item is expired and is no longer available.
Robo-Selfie Hat is the exclusive in-game reward for Gift Cards from Select Merchants in February .
Exclusive Reward: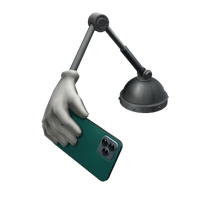 Description
If the hat is taking the picture of you, is it even a selfie? Or is it a selfie of the hat? Get this item when you redeem a Roblox Gift Card from Select Retailers in February 2023.