King Penguin Backpack
November Amazon Gift Card - $25
Posted 951 days ago
Expired
This item is expired and is no longer available.
King Penguin Backpack is the exclusive in-game reward for $25 Gift Cards from Amazon in November.
Exclusive Reward: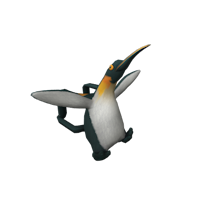 Name
King Penguin Backpack
Description
No need to worry about this fella flying away - he's more grounded than others. Get this item when you redeem a 2000 Robux code from Amazon.com.