Joker's Wild Cardback
March Select Merchants Gift Card -
Posted 11 days ago
Expires in 19 days
Joker's Wild Cardback is the exclusive in-game reward for Gift Cards from Select Merchants in March.
Purchase From Select Merchants
Exclusive Reward: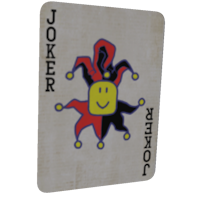 Name
Joker's Wild Cardback
Description
One of these is better than a full house. That's why you can't wear two. Get this item when you redeem a Roblox Gift Card from Select Retailers in March 2023.