Holiday Despacito Spider
December Roblox Gift Card -
Posted 554 days ago
Expired
This item is expired and is no longer available.
Holiday Despacito Spider is the exclusive in-game reward for Gift Cards from Roblox in December.
Exclusive Reward: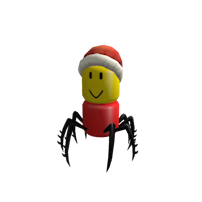 Name
Holiday Despacito Spider
Genres
Town and City , Comedy
Description
Yeah, this thing's cursed, but like, in a cute, merry way! Redeemed via bonus code included with gift cards purchased directly from roblox.com/giftcards. Available for a limited time only in the US, Canada, Germany, France, the Netherlands, and the United Kingdom.