Domino Top Hat
July Roblox Gift Card -
Posted 712 days ago
Expired
This item is expired and is no longer available.
Domino Top Hat is the exclusive in-game reward for Gift Cards from Roblox in July.
Exclusive Reward: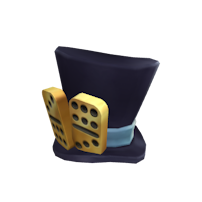 Description
It's not a proper top hat if you don't have dominos. Redeemed via bonus code included with gift cards purchased directly from roblox.com/giftcards. Available for a limited time only in the US, Canada, and the United Kingdom.