Last Updated: February 17, 2022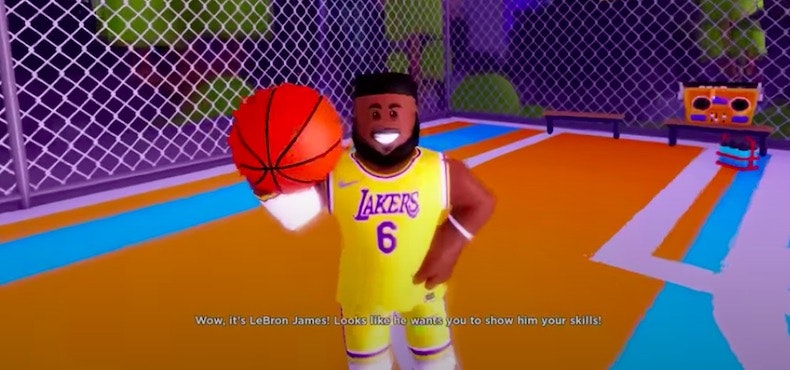 Meet LeBron James in Nikeland Roblox Event
...And Get the FREE Nike LeBron James Crown!
February 17th, 2022
LeBron James has come to Nikeland and he wants to play some ball with you! Even better, if you do well you will win the Nike LeBron James Crown! Read on to learn how.
How to Get the Nike LeBron James Crown in the Nikeland Roblox Event
Immediately when you enter the Nikeland game, you'll see LeBron James. He wants you to shoot some baskets!
To shoot a basket, pay attention to the colored line at the bottom of the screen. Aim to release the button when it's in the green zone, which will get you 3 points. The yellow zone is also ok and will get you 2 points but the red zone will get zero points.
Once you've made enough baskets you'll be teleported to a new area in the sky. If you have to leave, you can always come back here by using the Teleport button on the right side of the screen to teleport to the NBA All-Star 2022 Arena.
As you enter the basketball court a new game should start momentarily. It will say, "Ready, Set, Go" and you'll start shooting.
Use the same process as before, doing your best to get in the green or yellow zones.
As you make more baskets, you'll gain more points. When you get enough points, you'll gain a level. For different levels you will earn various in-game items. You can see these awards by using the Awards button on the right side of the screen.
As you can see in the awards section, the Nike Lebron James Crown is gained at level 11. This means you'll need to play a lot of basketball, making your way up the levels. (Also note that you can't begin the second line of items, including the Nike Lebron James Crown, until after February 18th.)
And that's it. Once you attain level 11 the Nike Lebron James Crown will be yours!

Name
Nike LeBron James Crown
Description
LeBron "King" James is the greatest of all time, but you got his crown during NBA All-Star 2022. Wear it with pride—you're the Greatest Of All Time.